How do you contact LinkedIn support when something goes wrong
?
There are a few different routes to get support from LinkedIn. Let's dig in.
Self-service online help and forum
.
LinkedIn has a searchable online help centre available at linkedin.com/help
This also includes a link to the LinkedIn Help Forum, where any member can ask and answer questions.
On LinkedIn desktop, you can access a popup help section via the Me menu at the top of the page: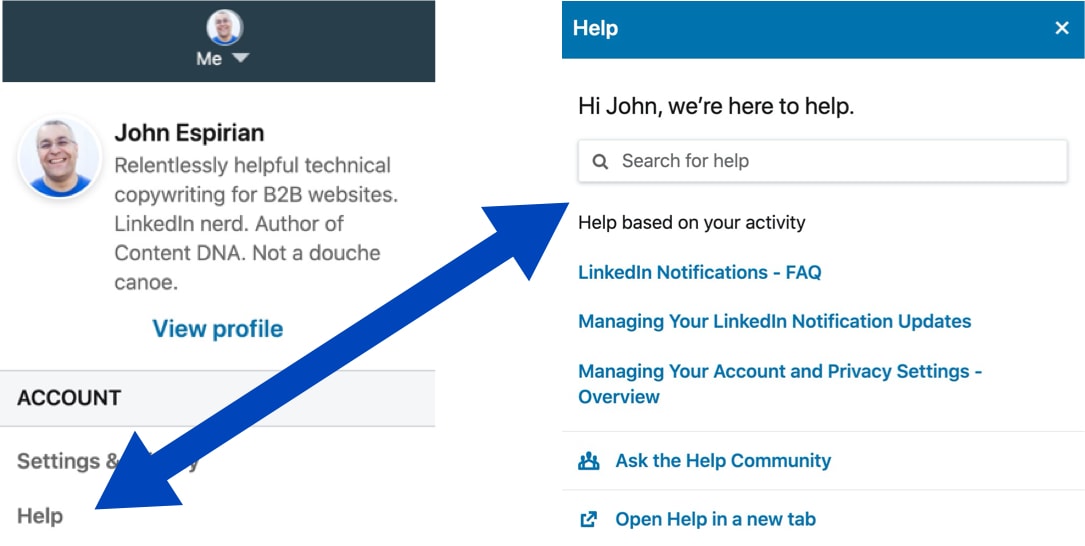 It might sound patronising for me to tell you to look at these resources first, but you'd be surprised at how much content is there and what you can learn about LinkedIn from a brief bit of study.
(You might also want to snoop around the rest of my LinkedIn Learner Lounge to see what other free goodies you can pick up.)
I used to work in tech support and it was often the case that people would call or email with questions that had already been answered online.
So, before you waste time trying to get a support person's attention, check that your issue warrants it. If it does then the rest of this article is for you.
Tweeting @LinkedInHelp on Twitter
.
Before LinkedIn improved the help on their own platform, the best way to get assistance was to send a tweet to @LinkedInHelp on Twitter.
This is still an effective route to getting quick support, perhaps because LinkedIn wouldn't want to be seen to ignore requests for help on a public forum such as Twitter.
Then again, don't expect any account-specific queries to be handled through this route. The help team won't discuss anything like that in public.
If you've already raised a support ticket through LinkedIn's own platform but you haven't had a suitable resolution, a friendly tweet to the Twitter team can sometimes push things through to a happy close.
Tagging LinkedIn Help on LinkedIn
.
Got feedback about a niggle or a feature request?
If so, tag the LinkedIn Help account in a comment on a relevant post.
Here's an example comment I added to my own post titled LinkedIn recommendations can't be re-ordered:
I've done this a handful of times and the team are usually pretty quick to respond.
I prefer to engage with LinkedIn on LinkedIn, so I'd use this route rather than seeking support on Twitter whenever possible.
Raising a support ticket while logged in
.
The classic way to get help is to raise a support ticket with LinkedIn's help team.
You can do this here: raise a support ticket.
At first, the page looks like an automated knowledge base only, but don't be fooled!
To raise a support ticket
:
Click Other.
Write something in the text field.
At the bottom of the screen, click Create a support ticket.
Enter the required info to generate the ticket.
You should receive an automated acknowledgement by email as soon as the ticket is created.
The team usually responds within 24–48 hours.
Visit the Your cases page to check the status of any old or ongoing support cases.
Raising a support ticket while not logged in
.
If your account is locked out or there's something else stopping you from logging in to LinkedIn, you won't be able to raise a support ticket in the normal way.
Instead, use LinkedIn's public Contact us page to get in touch and submit your request for help.
This is the same page that the @LinkedInHelp Twitter account sometimes points people toward.
So, if you're in urgent need, go straight to the Contact us page and get cracking.
I've only ever used this route once and can't remember how quick the team were to respond.
Telephone support
.
I've never been able to find a telephone support number for LinkedIn, so I don't think this route is possible. Sorry!
If you need a hand with improving your LinkedIn profile, I do offer 1-to–1 support – but it ain't free.
If we connect on LinkedIn, I'll always try to be as helpful as possible if you send me a direct message there. Non-meanies get my attention.
Let's wrap up
.
There are now lots of routes for getting support from LinkedIn.
Remember to start by inspecting the online help pages before you leap to raising a support ticket.
Be part of the community
.
Found this free content useful?
Imagine what you'll get from being part of my premium Espresso+ community for small business owners and solopreneurs:
deep-dive content
live Q&A calls
content reviews
active discussion group
and more.
---
John Espirian
.
I'm the relentlessly helpful LinkedIn nerd and author of Content DNA. I teach business owners how to be noticed, remembered and preferred.
Espresso+ is a safe space to learn how to ethically promote your business online and get better results on LinkedIn.
✅ Join 248 action-takers