How to add Word, PowerPoint and PDF documents to your LinkedIn posts
.
Document posts (sometimes referred to as carousels or sliders) perform really well for me on LinkedIn. Check out the bottom row of my latest stats here:
| | Posts | Reactions | Comments | Views | Shares |
| --- | --- | --- | --- | --- | --- |
| Text | 209 | 118 | 101 | 8131 | 3.4 |
| Image | 485 | 87 | 79 | 5287 | 1.3 |
| Video | 222 | 107 | 89 | 2401* | 2.2 |
| Document | 36 | 124 | 120 | 11566 | 4.9 |
Source: 956 posts analysed between August 2018 and April 2022. Absolute post counts in first column. Mean average counts in the rest of the table.
* Must be multiplied by 5 to be comparable to other view counts in this table. See explanation
Here's how to add a document to a LinkedIn post.
LinkedIn document posts can contain PDFs, PowerPoints or Word documents. In my experience, PDFs work best on LinkedIn. Creating those files isn't what I'm covering here.
First, a document post can be made only via the desktop version of LinkedIn. And you can't schedule document posts via third-party scheduling tools such as Buffer or Hootsuite.
When you create a post, there's no longer a button to add a document. That's not a problem: start by clicking the Start a post text field.
On the next screen, look for the document icon shown below:
Click Choose file and you'll be prompted to browse your computer for a document to share. You can also select a document stored on Dropbox:
The supported document types are:
Format: Word (DOC/DOCX), PowerPoint (PPT/PPTX) or PDF
Max. length: 300 pages
Max. size: 100MB
Once you've selected a document, you'll see this screen:
As above, the document is previewed, and you can enter a document title.
Then you can click Done to start composing the main text of the post.
The document is embedded and you have 3000 characters to add to that content.
After you publish the post, it will show up in the feed with the document as an inline item, allowing people to consume the content without leaving the feed.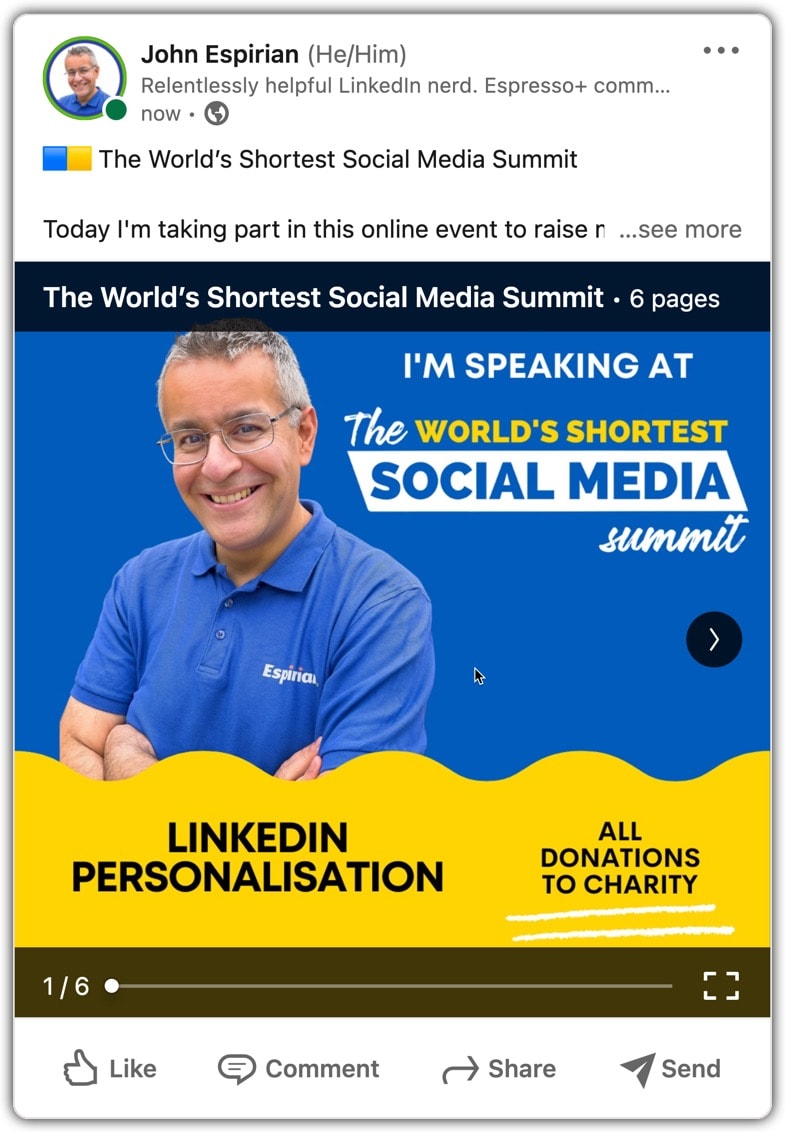 The document post contains back and forward page buttons (shown only on multi-page documents):
There is also a fullscreen button:
The fullscreen option offers two further features: Accessibility mode and Document download. These are shown in the top-right corner when the document is in fullscreen mode.
Accessibility mode simplifies the display and shows pages individually rather than side by side.
For PDFs, accessibility mode passes control to your web browser's PDF plugin, and you should see common PDF controls on the right-hand side of the page.
The download button lets you save a copy of the document to your computer, so that you can view or print it offline.
Examples of my document posts
.
Here are some of my LinkedIn document posts to get you thinking:
Be part of the community
.
Found this free content useful?
Imagine what you'll get from being part of my premium Espresso+ community for small business owners and solopreneurs:
deep-dive content
live Q&A calls
content reviews
active discussion group
and more.
---
John Espirian
.
I'm the relentlessly helpful LinkedIn nerd and author of Content DNA. I teach business owners how to be noticed, remembered and preferred.
Espresso+ is a safe space to learn how to ethically promote your business online and get better results on LinkedIn.
✅ Join 237 action-takers