Do you have a pen portrait for your business? That's a written summary of your ideal customer. I believe that creating one can help you stay on the right track when it comes to producing content for your business.
This post contains some real examples of pen portraits, shared by members of my Espresso ☕ community. Perhaps they'll inspire you to create your own?
Introduction
.
It's easy to assume that you know your audience. After all, you deal with them all the time when you're selling your products and services.
But have you gone to the length of creating a pen portrait (also known as a customer avatar or buyer persona)? That's a written summary of your ideal customer – who they are, what makes them tick, what things they care about – stuff like that.
Most business owners I work with haven't taken this step.
And that's one of the main reasons why businesses so often produce content that isn't up to scratch – because the writing isn't well tuned enough for the intended audience.
A common problem with content
.
❌ Speak to everyone = reach no one
I start my writing consultations by helping business owners to understand the value of creating a pen portrait.
I usually give them the theory and then interview them to start building a picture of that ideal customer.
Theory's all well and good but some people prefer to learn from seeing real examples. For that reason, I published my own pen portrait for Tony.
But I didn't want to stop there, so I asked some of my Espresso ☕️ community to let me know about their pen portraits.
So, here are some examples of real pen portraits and the value they've brought to their creators.
Louise Harnby and "Simone"
.
Louise is a fiction proofreader. You can reach her at louiseharnbyproofreader.com and on Twitter at @LouiseHarnby.
Tell us about you and your business
.
I'm a book editor. I specialize in copyediting and proofreading fiction for independent and self-publishing authors, especially beginner novelists.
Tell us about your pen portrait
.
My customer avatar is called Simone. She's a forty-two-year-old professional woman who's big on heart and short on time. She spends her life juggling. On the surface she's confident, accomplished and successful, but secretly she doubts herself constantly (though she can count on one hand the people she'd admit that to).
She's written her novel in her spare time. She's drawn heavily on her own life experiences to create her characters. Their fears, anxieties, sexual desires, shame, grief and anger are hers in part. She's not just telling a story; she's giving voice to her own mind … sharing herself, exposing herself.
As a professional businesswoman, she understands the importance of building a team around her on whom she can call to get the best outcomes. So for her, commissioning professional editing is a no-brainer. However, what she's written has intimacy to it.
Hiring an editor means handing over her work to a stranger and paying for the privilege of having her words checked, changed, perhaps even challenged. Just the thought makes her feel nauseated because it's so personal.
Simone therefore wants an editor who instils trust in her. It's not about confidentiality clauses in contracts, but something deeper. She needs to believe the editor will respect and care for the characters she's created and the world they live in, that the novel will be handled with empathy. Without that trust, she'll not be able to commission editing, never mind publish.
Why did you create a pen portrait
?
I wanted my brand identity to reflect my clients' needs rather than my services and abilities. I'd struggled to work out how to do this. I had lists aplenty – bullet points of stuff that I thought I should include – but nothing that felt like a story with a series of core, overarching themes.
Then I read The Hippo Campus by Andrew and Pete. Shortly after, I consolidated what I'd learned with their online training programme, Content Mavericks. That was the first time I'd given serious thought to a pen portrait and how it might help me express myself in a way that spoke to my clients' concerns while reflecting my values and clearly differentiating my brand.
Has your pen portrait helped you and if so how
?
It's one thing to make a list of all the things you believe are important to your clients. That's useful, certainly. But personifying that list is a powerful step-change.
When it came to thinking about reworking the copy on my website, and the content I share, I stopped saying, "Is X or Y reflected in that?" and started asking, "How would Simone respond to that?"
It's created a deeper sense of engagement because I'm dealing with a person – one who has a name, an identity, a personality.
Simone sits on my shoulder throughout my business day. She's there when I write promo copy, publish a blog post, or create a resource. She's there when I engage with colleagues and clients on social media. She's there when I edit – in every change I make, every query I raise, every editorial report I write, and every invoice I send. And she's there when I respond to every potential client who contacts me to ask about my availability.
Simone keeps me in check. If Simone doesn't approve, it doesn't get done or it gets done differently!
I accept that not every client I work with will match Simone exactly. They might identify differently in terms of gender, profession or age, for example. But all my clients share certain characteristics with her, notably the requirements for trust and care.
Could other business owners benefit from a pen portrait
?
I'd recommend the creation of a pen portrait to anyone struggling to talk to their clients purposefully. It focused my thinking and saved me time. I wish I'd done it years ago!
It's like going to a party. If you don't know anyone in the room, it's tricky to get beyond general chitchat – lots of words but little substance. It's when you spot someone you get on well with that the discussion becomes interesting.
And that's what the pen portrait can do for everyone – it's a way of fast-tracking your message so that you can begin the more interesting conversations with best-fit clients.
I believe that the most rewarding business relationships are good-fit ones. To get paid, or pay for a service/product is great. To enjoy the experience is amazing.
Natalie Hailey and "Clare"
.
Natalie is a digital marketing expert. You can reach her at hotcontent.co.uk and on Twitter at @HotContentUK.
Tell us about you and your business
.
I set up Hot Content two years ago with the aim of helping small businesses increase their visibility online and attract more clients. I work with companies and individuals in a number of ways, either through done-for-you blog and website content, in-house training and workshops or one-to-one support.
However I work with clients my aim is always the same: to simplify online marketing and alleviate people's fear and overwhelm around it. I believe that with access to the right information and patient teaching, anyone can make a success of their business in the increasingly digitalised age in which we live.
Tell us about your pen portrait
.
Meet Clare.
Clare is 48 and is married with two children who've flown the nest and are at university. She shops at Boden and has a passion for Italy. A few years ago they bought a small place so they can spend a few weeks of the year out there (with their laptops of course!).
She runs a well established and successful business with her husband. He is very hands on in the business and very much involved in the day-to-day "doing" within the business, whereas Clare bases herself between the business premises and home and is responsible for all the business development and marketing side of the business.
She's always enjoyed this but over recent years has become increasingly aware that they are falling behind their competitors, all of whom seem to have a very solid online presence, and are all creating regular blogs posts and are very active on social media. She's set up a Facebook page for the business and dips in and out of posting on the page and has dabbled with Twitter but doesn't really understand how it's going to help move the business forward.
Clare feels increasingly frustrated and totally overwhelmed by the online world. She's used to computers, and loves her iPad but feels she's getting left behind. If she doesn't do something about it soon, business is really going to start to be affected.
She's started to lie awake at night thinking:
How will I find the time to do all this "online marketing"?
Even if I can find the time, where do I start?
Nobody's finding the company website, perhaps it's something to do with search engine optimisation … what even is that?!
I wish we could afford to take someone on who could deal with all this for us!
Problem is, Clare and her husband can't afford to take someone on specifically to deal with the marketing of the business. What she needs is the ability to outsource some of the work that needs to be done and also some support in learning to do some of it herself.
Why did you create a pen portrait
?
It's common knowledge, in the world of marketing at least, that it's crucial to know who our audience is and to know who we address through any content we produce, whether that be a blog, video or any other form of content where we have a message to convey that we want to resonate with someone.
Working out who my "ideal client" is hasn't been easy for me. It's only in the last couple of months that the penny has actually dropped for me, before that I spent a lot of time feeling frustrated because I knew that I needed to nail down the type of person who would buy from me, but it didn't feel clear for me who that might be.
Over time I started to realise I was working with, engaging on social media with and teaching a very particular type of person and so my pen portrait was born …
Has your pen portrait helped you and if so how
?
It was only when Clare solidified in my mind that I realised that I needed to simplify my own content. I was writing about "content marketing" and "blogging" and "SEO", not realising that someone like Clare would immediately feel alienated by this jargon.
It gave me the permission I felt I needed to write in a much more simplistic style and showed me that I needed to start from the beginning with the content I was putting out there.
So, for example, instead of diving straight in to talking about the various ways you can promote your blog, I started with writing blogs and producing videos explaining what a blog actually is and why it's important to blog.
Could other business owners benefit from a pen portrait
?
I would encourage everyone to spend time thinking about their pen portrait. It makes writing much easier, you can start to develop a style and writing topics come much easier because you know the types of problems you need to address.
One thing I would say, though, is to try not to force it … sometimes it's a case of starting to think about it and drafting a portrait and then allowing it to develop over time until the wondrous moment when the penny drops. If you're as lucky as me you'll suddenly realise when you're on a Skype call that you're actually talking to your pen portrait!
Melissa Mahama and "Angelique"
.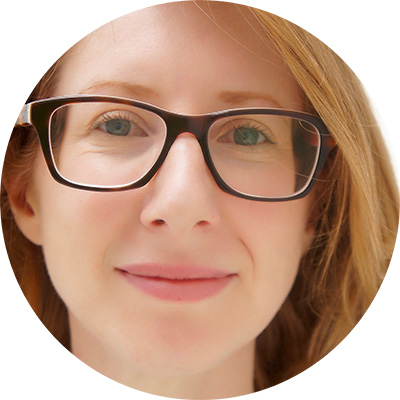 Melissa is a proofreader and copy-editor. You can find Melissa at nativeenglishproofreading.com and on Twitter at @MelissaMahama.
Tell us about you and your business
.
I'm Melissa Mahama, a freelance proofreader and copy-editor. I specialise in helping non-native English speakers improve their English web-copy.
Two years ago, I found myself living Luxembourg. English is quite far down the list of languages spoken here – after Luxembourgish, Portuguese, French and German. But it is still the language of the internet. (Phew!)
When writing copy in a second or third language it is especially hard to spot mistakes and write clearly. Native English Proofreading helps companies make their writing clear and accurate.
Tell us about your pen portrait
.
Angelique Le Roux is a smart, cheese-loving, European mum setting up her own business – Petits Chefs. She lives in Luxembourg with her husband, two young boys and some chickens.
Angelique's backstory
.
Angelique grew up on a dairy farm in southeastern France. She liked school but thinks the farm taught her more. Lessons like – happy cows make more milk – have stuck with her more than English grammar.
Angelique studied sociology, then got a job in HR. Always bringing people together, she became chief party planner at work. At her wine tasting awayday, she met her husband, Jean-Paul – a business intelligence analyst.
Happy and surrounded by friends, they married in Angelique's home village. They danced all night in a moon-lit field on the farm. Jean-Paul's family came down from Paris and everyone remarked on the simple beauty of every detail.
Five years ago, Jean-Paul landed a great job in Luxembourg. They made the leap to a new country and an exciting adventure. Angelique built a network of women that inspired and supported her. They created a Facebook group to welcome and support other women arriving in Luxembourg.
Angelique had two children, Adam and Louis. Grateful for the time she had with them, she also started to feel lost in a sea of unappreciated household chores. She started to worry about the gap in her LinkedIn profile – and missed the satisfaction that work brings. She started a blog to express these thoughts.
Angelique's work
.
Angelique's honest blog about family life went viral. Her fans enjoyed her healthy-eating ideas, beautiful photography and the occasional yoga fail post. She wrote in English but didn't worry too much about whether it was perfect or not. It's ideas that count – and she had so many to get down before Louis woke up from his nap.
Now she appears on local radio as an authority on healthy eating for kids. She is writing a recipe book, and her head is spinning with more ideas, often involving cheese. How will she fit it all in – and make dinner? Perhaps it'll be frozen pizza tonight! "There's a blog post in there somewhere," she thinks.
Her new business – Petits Chefs – is all about kids and cooking. Clubs, camps and parties for kids of busy mums has been a hit in Luxembourg.
Her new website looks great – but should she get the English checked through by a native English speaker?
Angelique's personality
.
Angelique is truly likeable. Radiating positivity, she knows how to motivate others and is cheered on by her many admirers. With a beautiful open smile, and an ability to laugh at herself, she is someone whose Facebook updates people genuinely Like.
Angelique's politics and beliefs
.
Angelique is proud that France chose Macron as its new, young president. She believes that he will make France fairer and more prosperous.
She loves being part of Europe and the freedom it gives people to live, work and travel across borders. Brexit made her sad. However, the British must have had their reasons. Life goes on.
Angelique's opinions
.
Angelique believes that women are strong, but together they are stronger. She is interested in where our food comes from, where our waste goes to … and a whole host of issues that seem overwhelming to some, but inspire her to play her part.
Angelique's likes
.
Meeting new people and trying new things give Angelique energy. You can often spot her at a street food festival or local pop-up market supporting friends, or having fun at her own stall.
Angelique's hobbies
.
Yoga is Angelique's me-time. Once a week, Jean-Paul comes home from work early so she can get to her class.
Angelique's technology
.
Angelique uses Facebook, Twitter and Instagram like a pro. Sure, sharing her family life played a part in her success, but she worries about her kids living through a social media lens. She tries to practise mindfulness and has toyed with the idea of a phone detox. She is glad that her new business is taking her in a different direction.
Angelique's finances
.
Jean-Paul brings in enough money to support the family, but Angelique misses the feeling of financial independence. Especially when splashing out on non-essential jewellery.
Angelique's clothing
.
Angelique's cute style is made up of vintage and high street pieces. Fast fashion and thinking about who made her clothes worries her, and she tries to only buy clothes that she really loves. One of her most popular posts detailed her increasing fondness for yoga pants since becoming a mum.
Angelique's problems
.
There is never enough time in the day. Angelique works from home and it is difficult to separate home from work life. She likes the house to be tidy but tries not to get distracted from her work.
There's a nagging worry in the back of her mind about her parents, who still run the farm, but are getting older. She always thought she would return to continue the family business, but now she is not so sure.
Angelique's future
.
Angelique can't imagine living in Luxembourg for the rest of her life but she is happy for now. It's a great place to bring up children and start her business. The future is an exciting place.
Why did you create a pen portrait
?
I came across John's post about creating a pen portrait whilst planning my own blog. What could I write about? Every grammar rule already has umpteen amusing or informative blog posts to its name.
Once I had created Angelique, it became clearer. What would Angelique find interesting and useful? What would help her write better English?
I will be writing a series of quick and easy tips to help a busy Angelique improve her English writing. (First post: Full. Stops.)
Has your pen portrait helped you and if so how
?
Creating a pen portrait has helped me to refine the personality I inject into my writing.
First, the tone of voice for my website and blogs – a voice for speaking to Angelique.
Second, the tone of voice when copy-editing. How might Angelique say that if English were her native language?
As a plain English enthusiast, I love to cut non-essential words. This can leave writing, well, a little cold. But if I'm trying to appeal to a person like Angelique, whose ideas spill out onto the page, then let me add some colour. When I am improving Angelique's writing let me make it clear, but not lose its essence. My pen portrait has helped me with this process.
Could other business owners benefit from a pen portrait
?
You probably have a vision of your ideal customer. You probably have an idea of what will appeal to them and motivate them.
But fleshing out that character will make it easier to summon them like an old friend, to inform your writing.
A picture of Angelique on my desk? I'm considering it. But I don't think I can be bothered to explain. It's a long story.
Let's wrap up
.
These real pen portrait samples should give you some ideas for creating your own version. You can see the value they've had to their creators, and I can say the same for my own business.
I didn't have a clear idea of my own pen portrait until around summer 2016, but putting that piece of the jigsaw in place has really helped to move my business forward.
So, what are you waiting for? Create your own pen portrait today and see whether it helps your business to stand out.
Too busy to write your own content
?
Let me save you the time and energy of producing your own content. I've written content for small and large businesses since 2009, and I'm ready to help you.
Get in touch now for a free quote from the UK's #1 ranked provider of technical writing services:
Everyone can learn from John's clear, concise, and fun writing style.
He's a prime example of how you can share tonnes of knowledge without sounding boring or overwhelming your readers.
John's blog is one of my go-to sources when I'm in need of blogging or general writing advice.