Let's help your clients go from "umm, what?" to "ahh, I get it now".
You're short on time, writing isn't your strong suit, and you might struggle to explain exactly what you do.
So hire me. I'll interview you, understand your business and write the content that helps your customers.
What web pages do you need?
All business websites tend to have a similar set of core pages:
Homepage: the starting point that sets the tone for the whole site. This must be clear, compelling and concise. You want to grab people's attention and direct them to the part of your site that best serves their needs.
Products/Services: a detailed look at what your business offers. There can often be dozens of sub pages in this section, depending on how wide and complex your business is.
About: a place to convey your personality and show how you solve your customers' problems, often via links to case studies.
Blog/Resources: a set of in-depth content pages that demonstrate authority and relevance to your ideal audience.
Some businesses also have a Problems we solve page, which goes into detail about how that business makes life better for its customers.
I recommend a basic structure shown in the sample sitemap below.
Most B2B sites are more complex than this, but if you can get the content right on these important pages, you'll make a good impression on your prospective customers.
The number of pages needed affects the price.
Investing in copywriting for a small, simple website might cost £2000. More typically, I charge in the £4000–£6000 bracket.
There's more to pricing than this but there's no point hiding the rough figures.
Save money: Copy Fix is only £899
This web editorial review package is for those who don't need my full technical copywriting service.
Content samples
Here are some examples of web page projects I've worked on. Click the links to read more detail:
---
An example of web content for Allied Aerosystems
This project involved some technical proofreading and rewriting for a UK-based calibration company. The client needed someone with attention to detail and an understanding of technical language.
The result was a consistent set of website text that was authoritative and accurate but also easy to read.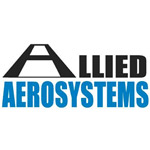 Thanks, John, for your excellent work on proofreading our website.
Your integrated approach and feedback embraced the entire site and our intentions while also picking up the minor details.
Very thorough, professional and of the highest standards.
---
An example of web content for Calleo Consultants
Calleo Consultants are a software reseller of Micro Focus testing tools. I wrote the content for their website as part of a new launch. Dozens of pages were in scope – here's a brief look at a few of them.
---
An example of web content for Neuron Computers
This project involved an editorial review of the Neuron Computers website.
I used a combination of a private, password-protected video recording and a set of suggested editorial changes logged in MS Word to give Kevin and his team an easy way to make quick improvements to their content.

John went over our new website and gave solid advice on improving our copy. I really feel we will hit the ground running for 2019 and beyond thanks largely to John's copywriting expertise.
Highly recommending John for those of you who need to improve their technical copywriting for blogs, LinkedIn itself, websites, or technical papers.
---
An example of web content for PRP
Here is an example of web content written for a website refresh for PRP Polymer Engineering. This Hereford-based company specialises in producing plastic-injection moulded parts as a viable alternative to natural rubber.
The old website was in need of a revitalisation, so I was commissioned to create a new site structure and to write the content for each page.
A new homepage would focus on the key value proposition offered by the client, giving the audience a clear understanding of the service and an easy way to enquire about orders.
The process of plastic-injection moulding was explained, to demonstrate PRP's expertise in this specialist field.Even when a client knows what they want from a service provider, explanations like this help to build trust and show authority.
The step-by-step manufacturing process was documented so that the company could show its commitment to quality and standardisation.Again, this is a great way to appeal to clients who want to know what they're getting for their money.
Another way to showcase the company's experience and understanding of its craft was to document the pros and cons of each material used to make parts in the factory.This transparency gives clients reassurance that they're dealing with a company that wants to deliver the best product for their needs.
---
An example of web content for Umbrella Digital Media
This example shows some homepage copywriting work that helped with the consistency and brand identity of this web design consultant.
A discovery call on Zoom helped me get to the bottom of what Imogen's business was all about. We agreed to play with the umbrella metaphor that's part of her branding and came up with a headline that she was really happy with: "Web Design to Weatherproof Your Business".
The result of this project was a tight, on-brand set of copy that will help Imogen to connect better with her potential web design customers.
I was struggling with my own homepage website copy. I wanted someone who was able to see 'me' from a client's perspective and to put into words how someone would feel when they work with me.
John was able to bottle it up perfectly into the right words to convey the exact sentiment and tone I was looking for.
Working with John was a real pleasure. He told me what was expected at each step of our work together and he made the whole process effortless. I have no hesitation in recommending John, he is a joy to work with.
---
An example of web content for LISA
LISA (Licensing, SAM, ITAM Academy) is an on-demand video training subscription aimed at software-licensing pros who don't want to rely solely on traditional classroom training.
The business was set up by the well-respected ITAM Review, and I wrote the copy for the new website. There was scope to put a bit of personality into the homepage, which features one of my favourite taglines: "Learn SQL server at 3am in your pyjamas. Learn VMware from your armchair. Study SAP by the sea."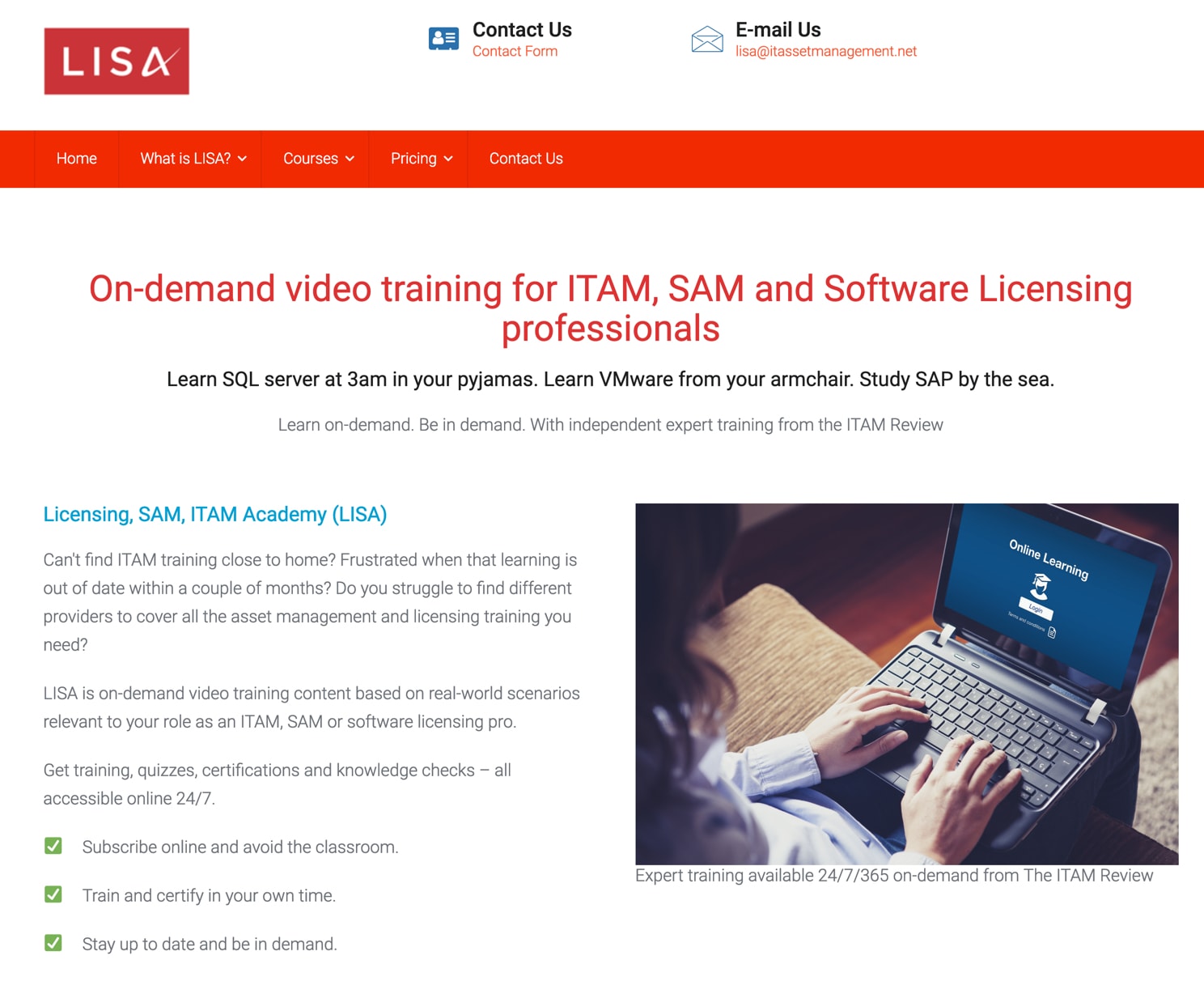 ---
Too busy to write your own content
?
Let me save you the time and energy of producing your own content. I've written content for small and large businesses since 2009, and I'm ready to help you.
Get in touch now for a free quote from the UK's #1 ranked provider of technical writing services:
---
John's Copy Fix showed me what I couldn't see on my website. The comments and feedback made perfect sense and improved my copy so much.
The process has helped me think more about the copy I'll create in future for my website.